The ART OF BALANCE project
aims to, using circus balance skills as a tool, point out the needs of modern man to bring himself to physical and mental balance using circus balance skills, and all through the prism of artistic values. The project will involve fellow citizens of all ages. The project will be implemented in Limanski Park, the first weekend of October. Our goal is for the participants to try and feel the benefits of the modern circus, to reduce bad prejudices related to the circus, to indicate an upward trend when it comes to the modern circus. Anyone who wants to can try tightrope walking.
Progress on ranžirna
station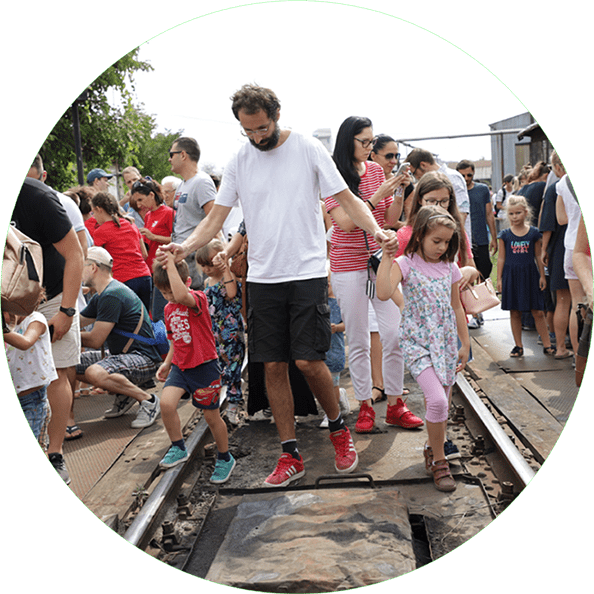 Progress on ranžirna station
This project is supported by the Culture Administration of Novi Sad. Ranžirna station is part of the industrial heritage of our city, which we have decided to open up for the public. We have given life to this old, decrepit, yet marvellous place which is a beacon of our cities architecture. We held 4 tours in one day:
1. For children (with an adequate program)
2. For our neighbours
3. For the general public
4. With professional guides
We also held the play "Progress" and a concert. The children participated in a workshop organized by Matica Srpska Gallery.
BALANCE YOURSELF – THROUGH CIRCUS
TO BALANCE
This project would take place from September 2021 to the 22nd of April 2022, and it is part of the European Capital of Culture programme, which would co-finance this project as well. The project would focus on children aged 7-15 and promote circus arts and skills as activities that have a wide impact on their creativity, concentration, communicativeness, critical thinking and last but not least their health and physical state.
Aside from acrobatics and juggling, the accent will be on balance and the variety of skills which include balance as a branch of circus that we will use most in our work with children.
Read more
Our research will mainly be towards mapping public spaces as suitable for safe and responsible performance of the circus disciplines that we promote. Public spaces should be marked appropriately with strict rules on how to safely and correctly use all the equipment, and in doing so, preserving the surrounding nature and its monuments (city parks – Limanski park, Futoški park, Kamenički park and the public beach Štrand).
Taking part in this project will be a team of psychologists who will conduct research on the positive effects of circus balance on children as well as a team of public health specialists who will organize conversations with parents and teachers. We will have additional classes with them as well, in an attempt to educate the educators.
The role of the mentor will be given to the circus school from Timisoara and its educators who have graduated in circus pedagogy and worked in the circus school in Brussels.
The idea is to include city schools (one of them would be the special needs school "dr Milan Petrović"), a few schools from the suburbs and 021 county (approximately 10 schools). Our goal is to gather around 500 participants, and with cooperation from the different schools teachers, pick out about 15 children with whom we would do intensive work until April of 2022. Then we would put on a final performance within the European Capital of Culture programme.
One of the results of this project will be an illustrated brochure detailing the importance and welfare of circus, along with a map of public places. Another goal will be to hold a conference where the idea that the modern-day circus becomes a part of our educational system would be put forward.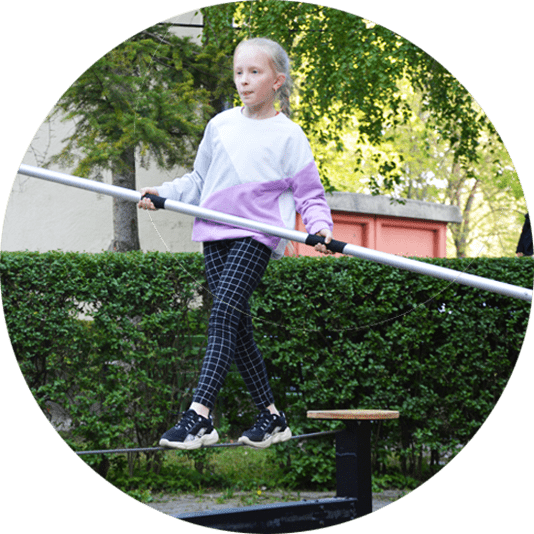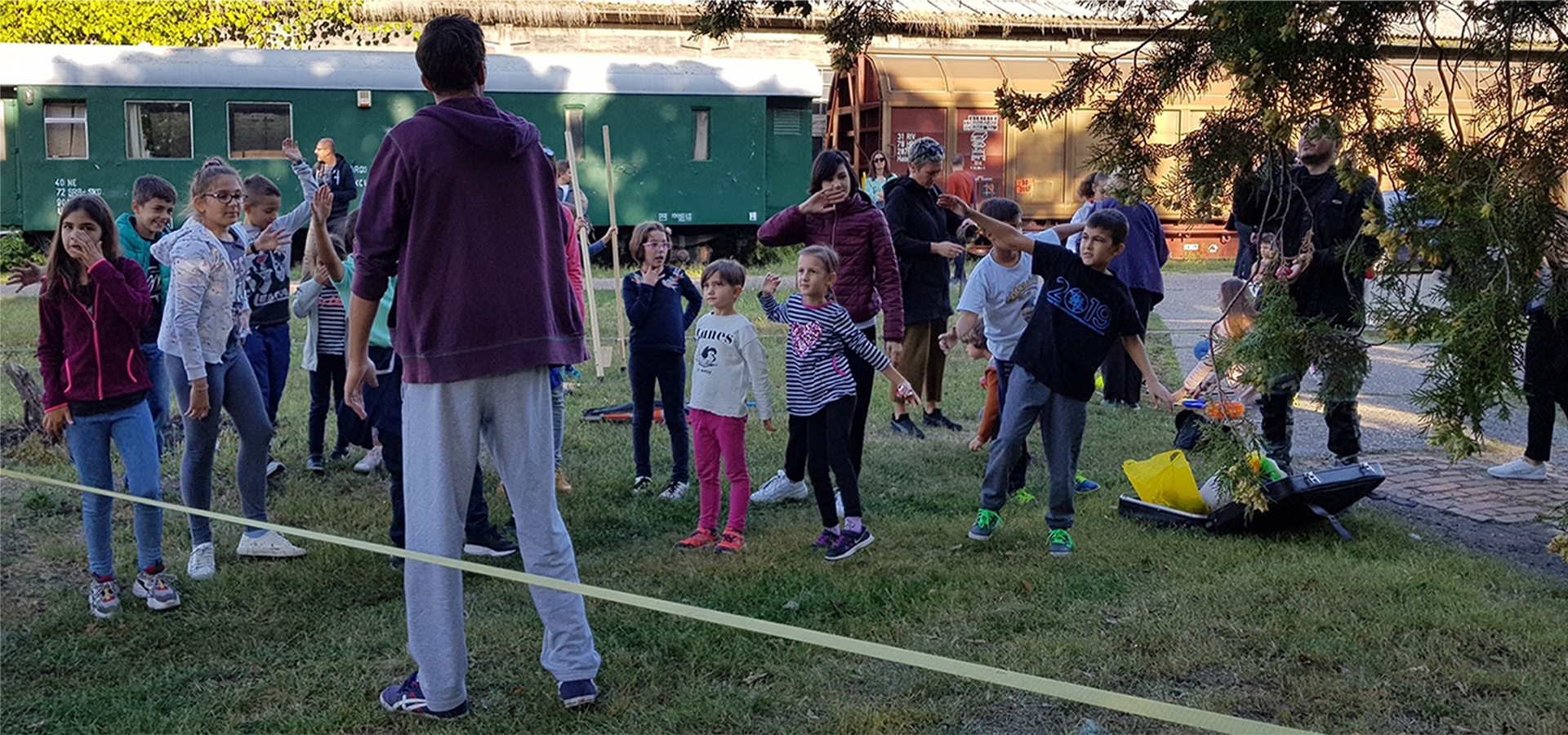 Circus builds trust
A project in which the young students of our Cirkoneo school, with our educators as mentors, learned how to develop a play from the ground up.
Read more
Having held the play in a few high schools in Novi Sad, we got the chance to visit the southwest region of Serbia, namely Tutin, Priboj, Nova Varoš, Sjenica and Novi Pazar. At the end of the tour we held a performance at Svilara Cultural Station. This project was supported by the United Kingdom embassy, and OSCE.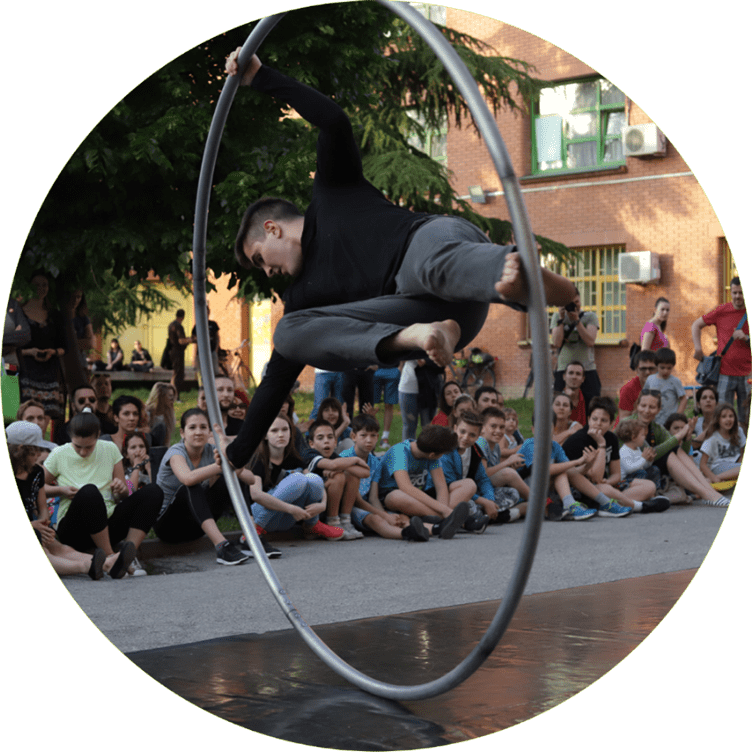 A circus for all
A circus for all is a project that recognizes the circus as a means of gathering and cooperation between all generations. The project is held during the weekends, when parents and children have a chance to spend quality time together. Its importance lies in the fact that it brings together the widest array of citizens.

Circus skills camp
This camp is intended for children of all ages, where they can learn circus skills and the benefits they bring, in a city environment.
It is completely free of charge and feel free to join us in new adventures!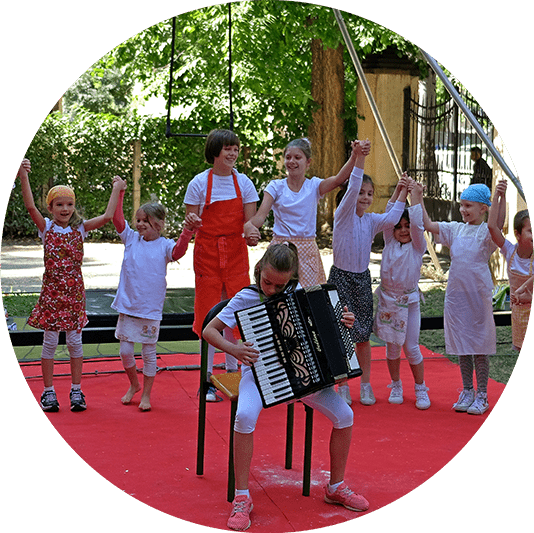 During May and June of 2019 we gathered in a small village on the bank of the Danube river and slopes of Fruška gora. We were honored to get the chance to spread our knowledge and skills to a group of 30 children, aged 9-10. After twenty rehearsals, we put on a show named "On a Čerević market (Na čerevićkoj pijaci)".
The second circus camp
for kids
on Katai farm
Everybody is welcome! At the end of the school year, after sitting in school and studying, this camp is a must for every child.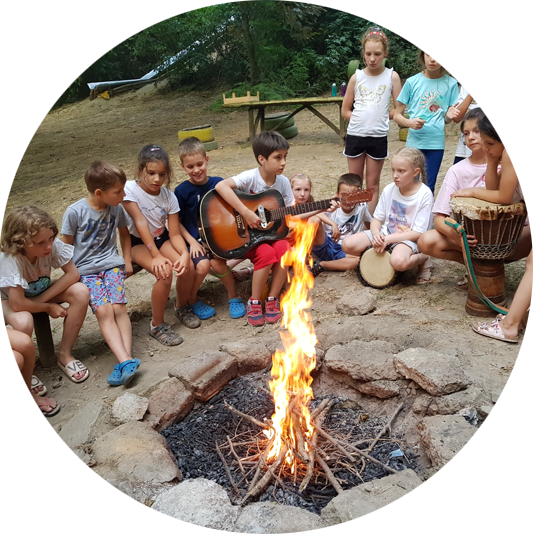 from the 22nd to 17th of June 2022.
This project was financed by the Jelena Šantić foundation. The goal of this project was the reconstruction of children's playgrounds with support of our community, local businesses, and parents whose children participated in workshops of our contemporary circus.
Read more
Around 50 locals and also guests from Novi Sad joined us, and helped with mowing, repainting and replacing worn out parts of the playgrounds. Aside from the work at hand, we showed off some circus skills, played music and enjoyed refreshments provided by our friendly hosts! We made plans for further cooperation with the children and locals of Čerević, so they can stay a part of modern cultural tendencies.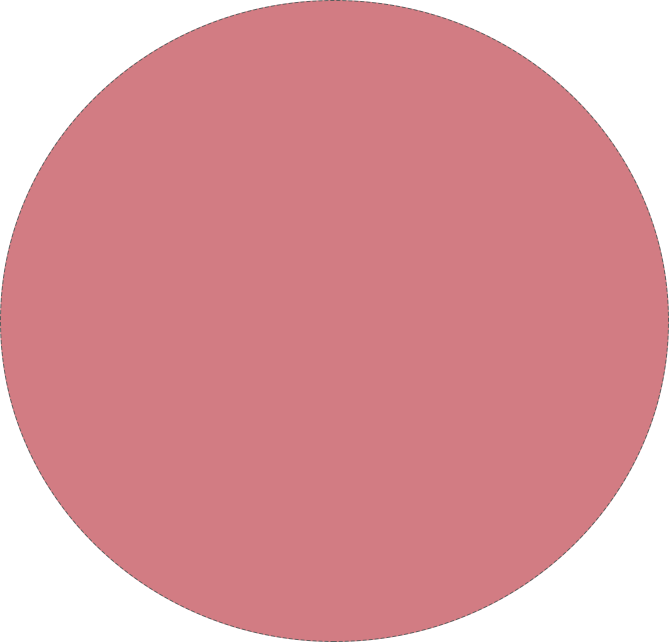 YOU CAN DONATE TO OTHER PROJECTSOF LOCAL COMMUNITIES THAT REQUIRE HELP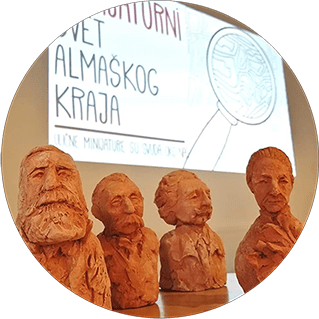 The miniature world of Almaški region
This is a part of Novi Sad where you can easily get lost. Our aim was to build a bridge between the old and new street names and visually represent them. Our street miniatures are a part of subculture art which fulfilled its purpose.

"Brave cobbler Millie"
A children's play
This is a story about Millie, a girl who uses old, rusty and discarded objects to make wondrous and beautiful things. But the citizens only asked for regular, everyday items which they needed, not realizing the actual beauty of her creations.
One day, two street artists, Jack and Tomcat, came to her town from afar, and in turn for shoes, they offered to teach Millie their skills. And this is where the drama begins…
Read more
Although Jack and Tomcat planned to soon continue their journey, they chose to stay a while longer. Millie, in the meantime, started creating more than just shoes. She could finally let loose thanks to her new friends and people from near and far started gathering around to catch a glimpse of her art.
Jack and Tomcat soon departed, equipped with new shoes and clothes, and quickly became the best street artists in the land. Millie went on creating all sorts of marvellous things and nothing was ever the same…
…except for a fine cup of tea every now and then when Jack and Tomcat would pay her a visit.
This play shows the importance of believing in yourself, being brave and trusting in your dreams and your friends!