Our team will fulfil all your needs in a creative, innovative and fun way.
How can you book us?
Contact us at +381 63 2575377
Schedule an appointment and we are ready to go!
If you are looking for fun, yet unusual content that will make your events memorable, strengthen your team, give your employees an adequate dose of entertainment then WE ARE THE ONES FOR YOU!
Read more
-Innovative programs for teams in business systems, and for children
-A contemporary form of art that strengthens mental and physical coordination, relieves stress, and helps participants get ready for facing their daily challenges.















Take a break from the digital…
Press the pause button after a day of hard work – let loose with unusual activities that we offer:
Dynamic exercise: allows better insight into personal and mutual potential, betters productivity and satisfaction.
Regular training for employees: physical and mental activity which boost productivity in the workplace.
Team building: a program for encouraging constructive solving of personal and team challenges.
Family circus days for employees with families: a fun program which engages employees and their family members.
School of contemporary circus
In case you wish to book us, we have a special offer for your kids: circus skills as training and proper growth for the young ones. Encourages team spirit, teaches acknowledgement of ideas of others and respects differences.
Circus workshops for kids – daily workshops that last 2 hours.
School of contemporary circus – two times per week, each lasting 1 hour in our gym.
Circus camp – a three-day program lasting from 10 a.m. to 1 p.m.
*We offer gift coupons
Let's become partners
We can become partners in humanitarian campaigns and projects, which we can realize and implement together as a part of CSR (Corporate social responsibility).
If your goal is socially responsible business, this is our goal as well and we still wish to dedicate our time and skills to children from vulnerable groups.
Creative drive invites you
to develop different mental and physical skills through fun and games in an environment of your choosing!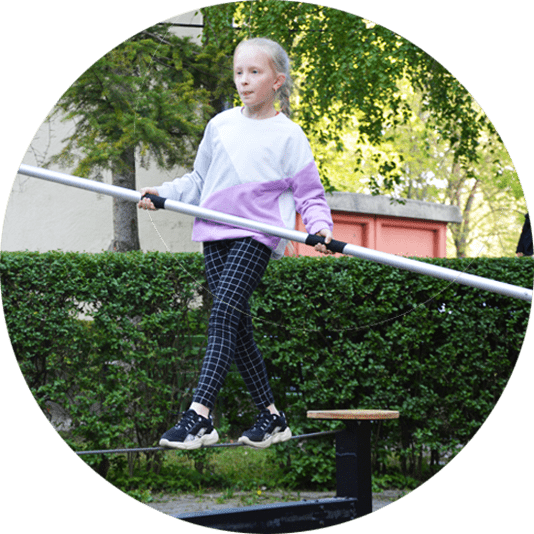 Balance yourself – through circus to balance
This project would take place from September 2021 to the 22nd of April 2022, and it is part of the European Capital of Culture programme, which would co-finance this project as well. The project would focus on children aged 7-15 and promote circus arts and skills as activities that have a wide impact on their creativity, concentration, communicativeness, critical thinking and last but not least their health and physical state.
Aside from acrobatics and juggling, the accent will be on balance and the variety of skills which include balance as a branch of circus that we will use most in our work with children.
Read more
Our research will mainly be towards mapping public spaces as suitable for safe and responsible performance of the circus disciplines that we promote. Public spaces should be marked appropriately with strict rules on how to safely and correctly use all the equipment, and in doing so, preserving the surrounding nature and its monuments (city parks – Limanski park, Futoški park, Kamenički park and the public beach Štrand).
Taking part in this project will be a team of psychologists who will conduct research on the positive effects of circus balance on children as well as a team of public health specialists who will organize conversations with parents and teachers. We will have additional classes with them as well, in an attempt to educate the educators.
The role of the mentor will be given to the circus school from Timisoara and its educators who have graduated in circus pedagogy and worked in the circus school in Brussels.
The idea is to include city schools (one of them would be the special needs school "dr Milan Petrović"), a few schools from the suburbs and 021 county (approximately 10 schools). Our goal is to gather around 500 participants, and with cooperation from the different schools teachers, pick out about 15 children with whom we would do intensive work until April of 2022. Then we would put on a final performance within the European Capital of Culture programme.
One of the results of this project will be an illustrated brochure detailing the importance and welfare of circus, along with a map of public places. Another goal will be to hold a conference where the idea that the modern-day circus becomes a part of our educational system would be put forward.